Granville Island Public Market & Farmer's Market
Why Visit Vancouver?
Canada's west coast is simply stunning. From its incredible mountains to the deep blue ocean Canada's coast offers some of the most beautiful scenery in the world. Not only that but it has one of the best climates in Canada and includes everything from the British type weather of Victoria to dog sledging in the most northerly part of the province.
Vancouver is a major city but it is so close to the natural wonders of the province you may tend to forget that there are amazing hikes near Vancouver, fabulous skiing adventures, a myriad of snow sports from tobogganing to tubing and so much more. You can learn about First Nations history and attend a powwow or a potlatch. Head to some of Canada's most exciting museums and enjoy the history of the area, and food – Vancouver is a foodie paradise.
As a foodie I love a farmer's market and am obsessed with visiting as many as I can. Granville Island Market in British Columbia opened in 1979 with just over 20 full-time vendors, today in 2016 there are over 50. The Public Market operates all year round and the Farmer's Market is open during the summer months every Thursday (10 to 3) from June to September.
The Farmer's Market vendors only take cash but there are ATM's and banks nearby. From fresh fruit and local veggies to flowers, microbreweries fresh homebrewed ciders and much more the Farmer's Market is a feast for the eyes and senses.
In 2002, the Supreme Court ruled in favour of the Skwxwú7mesh (Squamish) that they could reclaim the area of their traditional village Sen̓áḵw beside Granville Island. The land behind the former Molson Brewery and under the Burrard Street Bridge was handed back to the nation by CP Rail in this important court case.  
Today, industry on Granville Island has changed with the times and there are several Indigenous-owned galleries and stores. What hasn't changed is that Granville Island residents are still proud to work and play on territories that are the ancestral lands for all three nations, the xʷməθkwəy̓əm (Musqueam), Skwxwú7mesh (Squamish) and Səl̓ílwətaʔ/Selilwitulh (Tsleil-Waututh).
The Granville Island Market is open 7 days a week from 10 to 7 and closed on the majority of statutory holidays like Xmas and New Years.
How to get to Granville Island by bus
#50 False Creek Bus
The #50 False Creek bus comes from Gastown in the downtown area, along Granville St., and stops just off Granville Island, at the intersection of Anderson St. and West 2nd Ave. It will let you off on the southeast side of West 2nd Ave. Look for the large Granville Island sign and the yellow and rainbow-ed Kids Market along Anderson St. northward.
Better yet getting to Granville Island by boat
The Aquabus runs from 7am to 10:30pm in the summer (8:30pm in winter).
Inexpensive and fun, the Aquabus and False Creek Ferry provide short rides across the False Creek Inlet, from the downtown side (north) to the Granville Island side (south).
The ferries run continuously from 7am to 10:30pm in the summer (8:30pm winter). Check their websites for specific schedules and information.
Aquabus
The rainbow-coloured Aquabus travels around False Creek with stops at the foot of Hornby St., Stamp's Landing, Yaletown (foot of Davie St.), and Science World. The Aquabus dock on Granville Island is located between the Public Market and the Arts Club Theatre.
False Creek Ferry
The False Creek Ferries also travel around the Inlet and stop at the Maritime Museum (west of Granville Island), the Aquatic Centre (under the Burrard St. Bridge, on the downtown side (north) of the Inlet), Stamp's Landing, and Science World (the easternmost point of False Creek). The False Creek Ferry dock on Granville Island is located near the entrance to Bridges Restaurant.
Boat Parking
If you've got your own water-based transportation, there is a free public dock behind the Public Market that allows three-hour moorage. Space is limited and is first-come, first-served.
Where to stay in Vancouver
Vancouver is an incredibly diverse and dynamic city and one of my favourite places in Canada to visit. I love every part of this city and there is always a great place to stay in Vancouver.
The history of Granville Island Market
Over the years, Granville Island has become a much respected model for brownfield development. Originally the Island was two sandbars in an area of Vancouver known as False Creek. The areas was used by the local First Nations people as a place to meet and collect shellfish. In 1916, the federally-administered Vancouver Harbour Commission (VHC) built a seawall around the sand bars and a seawall was built around the sandbars which created over 40 acres of industrial land.
However by the late 60's the industrial market was rapidly changing and many of the industries moved away or closed up. Unfortunately those that stayed were heavy polluters and considered 'dirty industries' The island had become an eyesore.
The Canadian government moved in and transferred the management and redevelopment of the Island to the Canada Mortgage and Housing Corporation (CMHC) in 1973. The Granville Island Trust, was established to assist CMHC in implementing a plan for the future of the Island. It took a while for the City of Vancouver and the Trust to agree on a vision for the area and this became known as the Granville Island Reference Document, which still acts as a formal agreement between the City and the Federal Government.
A fundamental principal is that Granville Island would become a "people place" while still remaining reflective of its industrial maritime heritage.
In this small hub across the water from downtown, you'll find amazing restaurants, fantastic bistros and cafes, local art galleries, community spaces, an art school, buskers and street performers and an elegant boutique hotel.
Granville Island Market Day Vendor Program
The Day Vendor Program provides a platform to small owner-operated businesses who wish to sell their goods at the Granville Island Market. Approximately 40 temporary vendor tables rotate on a weekly basis with a focus on adjudicated Artist and Artisan vendors. Food vendors and other vendors provide additional interest and variety to the Public Market mix. It's a great way to test market your products and to see if your goods will be a success in the Market.
These are a few of my favourites at the Market.
As the website says, "Oozy, stinky, runny, salty, earthy, pungent, mild, creamy, hard, soft – cheese is our passion and if you don't know just what cheese you're passionate about, stop by, have a taste right off the wheel and let us help you find your favourite. The Benton Brothers shop brings the finest of artisanal cheeses to the market from small-batch producers, if you love cheese this is the place to go.
Macarons offer all the pleasure of a rich, decadent treat, but are as light as air! Bon Macaron Patisserie offers a wide and ever-changing variety of sweet and savoury macarons. Each bite is a distinctive experience! Macarons are gluten-free, and dairy-free flavours are always available.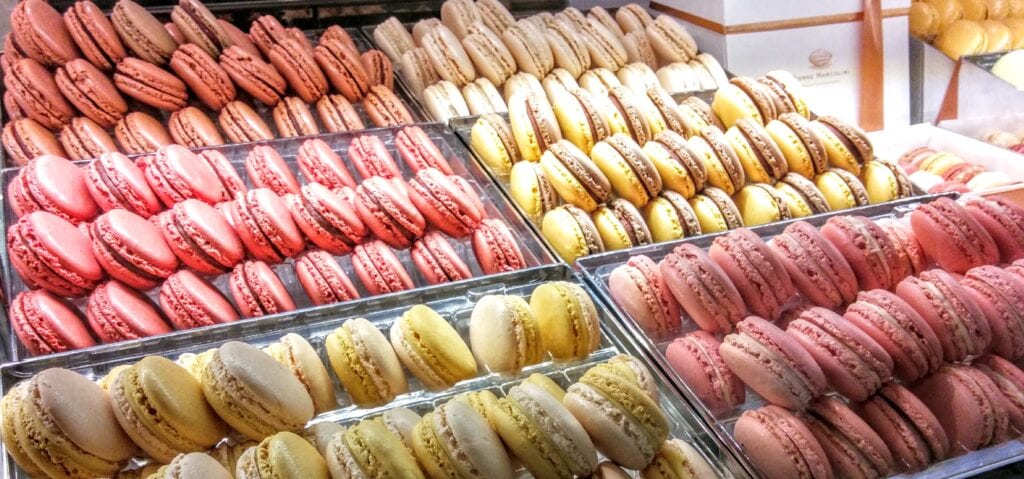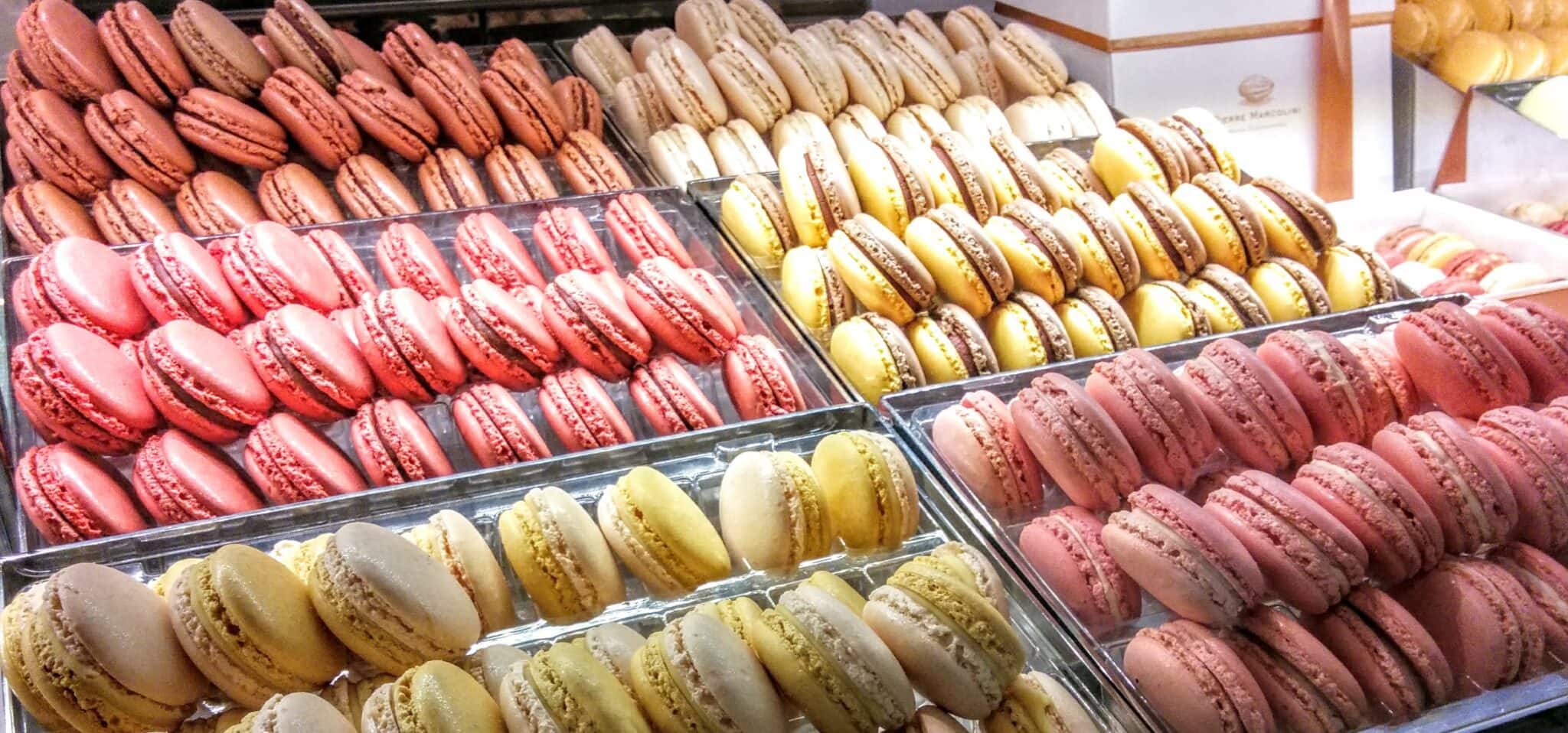 Located in the Public Market, the Candy Kitchen is a sweet-lover's ultimate dream! Get your sugar-high in full swing with the wide assortment of tasty treats they have to offer in the form of bulk and pre-wrapped candies and chocolates. They also carry an assortment of collectible Pez dispensers.
The open dining room is relaxed and wrapped in spectacular floor to ceiling windows, while the lounge offers warm intimate surroundings for evening cocktails. The heart of the kitchen is the wood fired grill, rotisserie and forno.
Scott Fraser, Marketing & Communications Officer for Granville describes Granville Island Public Market as "inclusive, creative, and cooperative." Scott says to be a vendor at the market he believes the following:
"I think that having a passion for your craft and wanting to share it with others. That is what tends to be the consistent factor with our most successful tenants. Whether it is soup, meat, pasta, seafood, tea or chocolate, people that have knowledge about what they sell, and willingness to share that knowledge, tend to fit well into the Market Community."
If you ever get to Vancouver don't forget to get to the Market you can check out what's happening on their Facebook Page here. If you are planning a family vacation in Vancouver or simply live in the area (with or without kids) here is a great resource 40 Fun Things to do in Vancouver with Kids written by Lindsay Nieminen whose blog Carpe Diem Our Way has loads of really interesting things to do while in British Columbia.
If you love markets around the world check out these foodie treasures
The Lucas Galvez Market in Merida Mexico
Leather Lane Market the home of Street Food in London England
22 Food Trucks across Canada to try
Best food markets and food halls in N. America
Two of the best Pizzas in Toronto Canada
11 Memorable things to experience in Toronto Canada
Pin for later