Fun things to do in New York
Planning a trip to New York can be rather overwhelming trying to figure out the best New York City sights to see in a short period of time can do your head in. There are so many unique things to do New York city you will want to come back many times over.
When you get to New York City there's a lot of city sights you just can't miss – the frenetic activity of Times Square, the peace of Bryant Park and the stunning beauty of Central Park, Broadway, 5th Avenue – so much to see, do, hear and experience and far greater writers than I have written copiously and beautifully about New York. But here is my list of the top fun things to do in New York City, believe me, there is so much more than this but these were our favourites.
Now I have to tell you that it simply isn't possible to spend a day or two in New York and see it all there are so many unusual things to do in New York and secret places you won't know about that you should make a list of everything you don't get to for when you return. To be honest New York is an Instagrammers dream there are so many instagrammable places in New York it is a photographer's dream location.
We took a Hop on Hop Off bus tour to familiarize ourselves with the City which we do in every city we visit, it's a great way to get around and learn the places you want to go back to. This is our list of the 12 best things to do in New York plus food of course.
If you are anything like me and love a street fair NYC has the best street fairs for every season. There's green markets, flea markets, Christmas Markets, antique markets, vintage markets, and so much more to choose from make sure you check before you go where the markets are that you'd like to attend.
We stayed in an Air B&B in Brooklyn when we arrived in New York and I wish I had more time to explore this fantastic eclectic neighbourhood. Gabby from Boarding Call has written a great article on The best free things to do in Brooklyn which will be my go-to guide for my next New York trip.
I should mention here that Brooklyn has some absolutely amazing places to eat and we did spend a lot of time exploring the food scene here. Pizza is undoubtedly one of the best things you can eat in New York and finding the best pizza in Brooklyn is no easy task, but it is a true joy to explore all the amazingly fabulous pizza joints that are here.
One of the things I love about New York is the food scene from all the phenomenal ethnic cuisines of New York to places where you can get everything peanut butter or how about a cereal bar? As an example, I am a sucker for a great vanilla milkshake and NYC has what I consider some of the best milkshakes in the U.S.
Xyuandbeyond is reader-supported. When you buy through links on our site, we may earn an affiliate commission. You can read my privacy policy here.
Fun Things to do in New York City
The city offers a fantastic selection of fun things to do in New York city there are activities for every interest. Stroll through the iconic Central Park, enjoying picnics, bike rides, and live performances. Experience the vibrant energy of Times Square, with its dazzling lights and Broadway theaters.
Explore the diverse neighborhoods, from the artistic vibe of SoHo to the historic charm of Greenwich Village. Immerse yourself in world-class art at the Metropolitan Museum of Art and the Museum of Modern Art (MoMA).
If you are looking for a friendly LGBTQ+ city to visit you have to go to NYC – home of the Stonewall Inn and Christopher Park. Take a leisurely walk across the Brooklyn Bridge for stunning views of the city skyline. Indulge in culinary delights at the diverse food markets and eateries, or shop along Fifth Avenue for high-end fashion. With its endless entertainment options, New York City promises an unforgettable adventure for locals and visitors alike.
Bryant Park
One of the best free things to do in New York is to simply hang out in a beautiful park. Our favourite place, well one of them was Bryant Park behind the New York Public Library. The Library has a lovely reading room available in the park and you can peruse the latest novel or newspapers, play a game of bowls, ping pong or even get down to the park for a film in the evening. Canadian libraries should follow Bryant Park's example.
Central Park
Central Park is also a New York City sightseeing must, the park is immaculate, no smoking is allowed within the park and it has a quiet and peaceful charm about it. There are many things to do in Central Park for everyone from kids to adults to tourists to locals. The Park was created in 1853 as a way to "improve public health and contribute greatly to the formation of civil society". The success of the Park started the urban park movement in America building a way to create National Parks across the country.
The design of the Park was the result of the 1858 competition won by Connecticut-born journalist and agriculturalist Frederick Law Olmsted and architect Calvert Vaux. They named their plan "Greensward" for their preferred landscapes of sweeping meadows and vast water bodies designed to appear limitless.
The designers created a formal Mall, the grand elm-lined promenade and the main architectural feature, Bethesda Terrace, a two-tiered esplanade featuring elaborate carvings and a central sculptural fountain that eventually became Angel of the Waters when American artist Emma Stebbins was awarded the commission.
By the '80s and '90s, the park has become a dangerous place to wander and was a complete mess. It took a historic agreement between the City and the Central Park Conservancy to create a new and gloriously beautiful space in NYC.
Wondering what to pack for New York City? Well Kelly Ann is a native New Yorker and has all the answers here What to Wear in NYC: A NYC Packing List
Hop on Hop Off Bus
New York City sightseeing using the Hop On Hop Off Bus is an awesome way to see all the cool New York stuff to do. We took the hop on hop off bus of which there are several companies that do this and they all cost around $75 Cdn for 4 days. They include a Bagel Breakfast and a boat ride which is a pretty good value for money and allows you to get your bearings for the loads of walking you will do.
The Hop On Hop Off buses in New York are a fabulous way to see the City and then take trips to the points you want to see again. There are some valuable tips for using the buses including checking out the reviews online to find the best tour for what you are interested in seeing.
The Highline
The High Line may not be a secret, but it is definitely one of New York City's gems. This is one of my tips for the best things to do in New York because it's a fabulous place to just hang out and people watch. An abandoned, above-ground railway stretching from the Meat Packing District to Chelsea, the High Line has been restored to feature botanical gardens, a walking path, and great views out over the river.
If you love street art and gorgeous murals like I do be sure to check out the Bushwick Murals in Brooklyn
Madison Square Garden
Madison Square Garden, often referred to as "The Garden," is a world famous sports and entertainment arena located in the heart of Manhattan, New York City. It holds a wide range of events, from professional basketball and hockey games to concerts featuring legendary musicians.
Radio City Music Hall
Radio City Music Hall is known for its stunning Art Deco architecture and grandeur, this historic theater has played host to countless famous performances, including music concerts, film premieres, and the world-famous Christmas Spectacular featuring the Rockettes.
New York Aquarium
If you have kids then this is a must see in the City. The Aquarium is located in Brooklyn's iconic Coney Island, and is home to a huge assortment of marine life, from playful sea otters and jellyfish to majestic sharks and vibrant coral reefs. Through interactive exhibits, touch pools, and informative presentations, visitors can learn about marine conservation, the ocean's ecosystems, and the importance of protecting aquatic environments.
The World Trade Center Memorial and Museum
The World Trade Center Memorial, also known as the National September 11 Memorial, is a poignant tribute to the victims of the September 11, 2001 terrorist attacks in New York City. The memorial is located at the World Trade Center site in Lower Manhattan. It consists of two enormous reflecting pools set within the footprints of the original Twin Towers, each pool surrounded by bronze panels inscribed with the names of the nearly 3,000 individuals who lost their lives in the attacks.
The pools' cascading waterfalls create a serene and reflective atmosphere, inviting visitors to remember and contemplate the tragedy. The Memorial Plaza is beautifully landscaped with trees and greenery, offering a peaceful oasis amidst the bustling city. Adjacent to the memorial is the 9/11 Museum, which further explores the events of that day through artifacts, exhibits, and personal stories.
One World Observatory
The One World Observatory is an iconic observation deck located at the top of One World Trade Center in Lower Manhattan, New York City. One World Trade Center, also known as the Freedom Tower, is the main building of the World Trade Center complex and was built as a symbol of resilience and hope following the September 11, 2001 attacks. The One World Observatory offers visitors breathtaking panoramic views of the New York City skyline and beyond.
The Empire State Building
Head to the 86th floor of this towering skyscraper to experience truly jaw-dropping views of Manhattan. You'll have to wait in long lines for this attraction but if you book a tour with one of the many tour operators you can skip the lineups.
Hudson Yards, Edge Observation Deck
Hudson Yards is a modern, development on the west side of Manhattan, New York City, characterized by its sleek architecture, upscale shopping, and dining options. At the heart of Hudson Yards, the Edge outdoor Observation Deck offers an exhilarating experience. As the highest outdoor sky deck in the Western Hemisphere, Edge provides breathtaking 360-degree views of the city skyline, the Hudson River, and beyond. Visitors can stand on a glass floor extending from the building's side, adding a thrilling element to the experience.
United Nations Headquarters
For the future world leaders this is a must stop on your visit to New York City. The United Nations Headquarters tour offers an insightful and informative glimpse into the global organization's work and mission. The guided tour typically includes visits to the General Assembly Hall, where important meetings and discussions take place, as well as iconic spaces like the Security Council Chamber.
Visitors can learn about the UN's history, its role in promoting peace and human rights, and its efforts to address global challenges such as poverty, climate change, and conflict. The tour also often includes a visit to the Visitors' Lobby, where art and exhibits showcase the diverse cultures and contributions of UN member states.
Top of the Rock
If you want majestic views of New York City that also include Central Park and The Empire State Building, then consider heading to the Top of the Rock. The observation deck at Rockefeller Center doesn't see as many visitors as the Empire State Building, and many argue that the views here are even better.
The Statue of Liberty and Ellis Island
The Statue of Liberty, was a gift from France to the United States, and it welcomes visitors to New York Harbor with her torch held high, representing enlightenment and hope. Ellis Island, located nearby, was the gateway for over 12 million immigrants to the U.S. between 1892 and 1954, symbolizing the dreams and aspirations of those seeking a new life.
Today, these historic landmarks serve as a testament to the nation's values, celebrating cultural diversity and the spirit of opportunity that defines America. Visitors can explore the Statue of Liberty, take in panoramic views from her pedestal, and delve into the immigration experience at the Ellis Island National Museum of Immigration.
The Brooklyn Bridge
Another of New York's iconic sites it's free so take a long slow walk over the bridge to enjoy the views over Brooklyn and Manhattan. When you are on the Brooklyn side make time for some of the great street food or restaurants at a much better price than the City itself.
Brooklyn Bridge Park
Brooklyn Bridge Park is a lovely waterfront oasis nestled along the East River, spanning several miles of Brooklyn's coastline. The park boasts stunning views of the Manhattan skyline, the Brooklyn Bridge, the New York Harbor and the Statue of Liberty. The park features green spaces, playgrounds, sports facilities, and walking paths, making it a favorite destination for locals and visitors alike.
Its meticulously designed piers offer various attractions, from sandy beaches and kayak launches to outdoor art installations and food vendors.
Brooklyn Botanic Garden
The Brooklyn Botanic Garden is found in the heart of Brooklyn, New York. This enchanting 52-acre oasis offers a diverse collection of plants from around the world. Visitors can wander through themed gardens that range from the Japanese Garden to the vibrant Cranford Rose Garden.
The iconic Cherry Esplanade draws crowds during spring when cherry blossoms burst into bloom, creating a breathtaking spectacle. Educational programs, seasonal events, and immersive exhibits make the garden a year-round destination for nature enthusiasts, families, and those seeking tranquility amidst the urban landscape.
Grand Central Station
A visit to the Grand Central Terminal is a must when you are in New York and most likely you will be passing through it at some time. So take time to enjoy the architecture, the people watch, the food hall here is superb so take a moment to enjoy some great food or take an official tour.
Summit One Vanderbilt
One Vanderbilt is a 427-meter skyscraper with an observation deck known as Summit that offers superb views of the New York skyline. It stand next to the Grand Central Terminal, and was completed in 2020.
It features a grand lobby adorned with artwork and provides direct underground access to Grand Central Terminal, making it a convenient hub for commuters and office workers. The tower's observatory, known as "The Summit," is situated on the top floors and offers breathtaking panoramic views of the city.
MoMA Museum of Modern Art
Home to some of the most famous works of art in the world. The Museum is home to Van Gogh's Starry Night, Monet's Water Lilies, and Andy Warhol's Campbell's Soup Cans. This is a definite don't miss.
Times Square
It's worth seeing just to say you did but Times Square is a noisy busy place so don't stop to eat (unless it's some street food) the hordes of tourists will drive you mad, but at least you say you saw it.
Metropolitan Museum of Art
The Met is for me one of the absolute best things to do in New York, how can you not love a museum that charges what you can afford to pay? This is one of the best Museums in the world and you can 'pay what you can' which means everyone can afford a visit. The Museum designed by Frank Lloyd Wright holds over 5,000 years of history within its environs and is without a doubt New York must do.
So much to do in New York and so little time. Take in a Broadway play or musical, check out Off-Broadway. Eat some street food, hang out in Bryant Park, go to the library and shop – one must always shop in New York.
Washington Square Park
Located on the west side of the MET the Washington Square Park, is a fabulous public space that captures the essence of New York City's bohemian spirit. The park is known for its central fountain, historic arch, and lively atmosphere. It has long been a gathering place for artists, musicians, students, and locals. The park's tree-lined paths, open lawns, and chess-playing regulars contribute to its unique character.
Food in New York
Obviously, you can't talk about the city without mentioning that one of the best things to do in New York is eat with a world selection of food cultures to choose from. Here you will find dishes from such diverse countries like Bosnia, the Czech Republic, Cyprus, Oaxaca Mexico and much more. So can we talk about food in New York, just for a moment?
This is the 2lb, Fidler, on the Roof deli sandwich from the Carnegie Deli, which cost $29 US dollars. The Carnegie Deli, was a famous New York City eatery known for its massive sandwiches and classic Jewish deli fare, that sadly closed its doors in December 2016.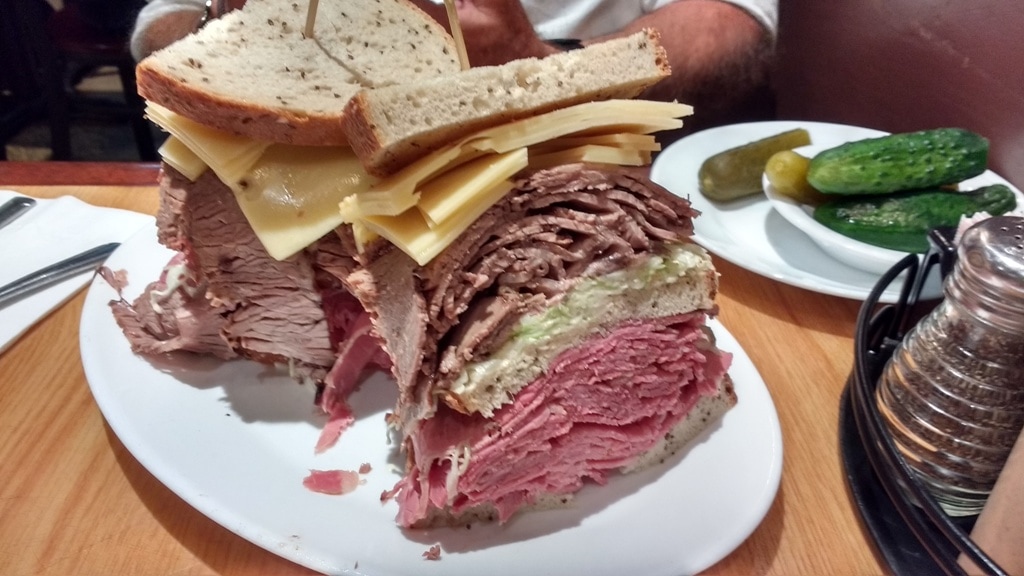 These lovely open-faced sandwiches can be found in the superb food court at Grand Central Station. Let's not forget the vast range of street food in New York either.

New York City's street food scene is a vibrant and diverse tapestry of flavors, reflecting the city's multicultural heritage. From the aroma of hot dogs and pretzels on bustling street corners to the tantalizing scents of halal carts serving up falafel and gyro platters, street food in New York offers a delicious journey around the world. Food trucks dish out gourmet tacos, artisanal ice cream, mouthwatering dumplings, and more, satisfying the cravings of locals and visitors alike.
There are so many Vegan Restaurants in NYC you will be spoiled for choice. New York City's vegan restaurant scene has flourished in recent years, offering a diverse array of plant-based dining options that cater to vegans and non-vegans alike. These eateries prioritize cruelty-free, sustainable, and health-conscious dining experiences. From upscale dining establishments to cozy cafes, vegan restaurants in NYC creatively reimagine traditional dishes using plant-based ingredients.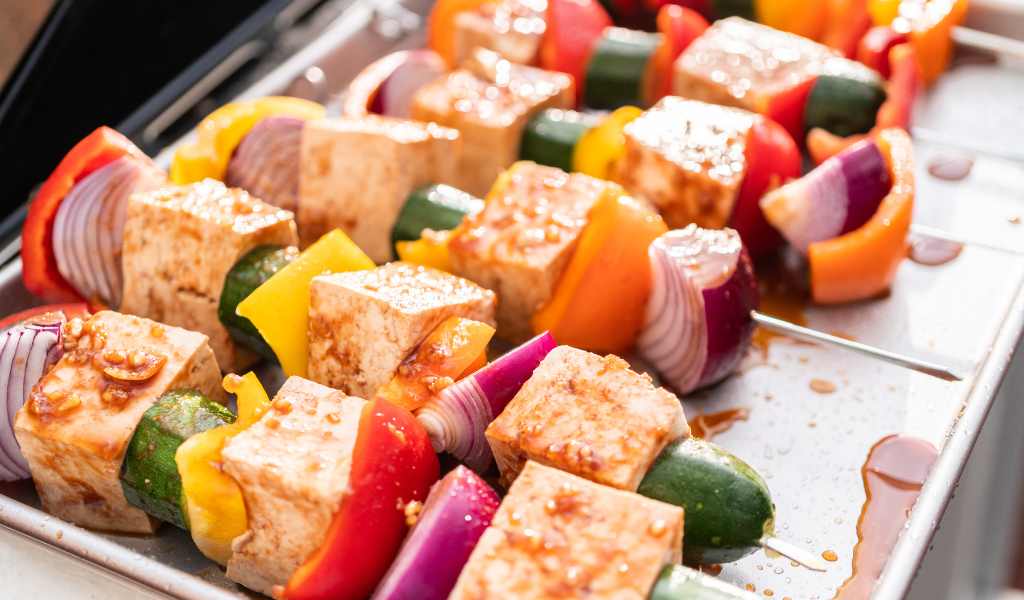 If you really want to get into the New York food scene – and why wouldn't you? You need to take a New York City Food Tour with Like a Local Tours.
I know lots of folks may feel that NYC is a dangerous place for potential pickpockets and scams but I don't worry about that with a great crossbody bag. Melissa of the Thrifty Family blog has a great post about the best travel Sling Bag that will reassure you that your valuables are safe. Other options are to use a fireproof safe for your valuables.
What do you think? What are some great places of interest in New York City that first-timers should see? Do you have a list of the best things to do in New York for those visiting for the first time? I would love to hear them.
You might also like
Weird American food – 32 dishes to try
World of Drinks – the weird and wonderful
BBQ in the USA Where to find some of the best
New York State – why you should visit
Pin it for later

Latest posts by Faith Coates
(see all)