The best of Irish foods from North to South – 100% Irish Food Stocked Here
Housesitting long term in N. Ireland means that we are on the hunt for the best of the local foods. Here in County Down just outside Belfast there is a treasure trove of unique foodie joints from restaurants to deli's and they focus on shopping local and carrying uniquely Irish sourced products. Irish foods are on the radar of every food writer and travel blogger that lands here. The foods of Ireland in both the south and the north is local, unique and delicious, Ireland is truly a foodie haven, from the superb raw milk cheeses to beef and lamb that simply can't be beaten for flavour. Oh, and don't get me started on the bread, wheaten, pan bread, scones, soda, barmbrack – well that's a story for another day so stay tuned.
Want to check out a great food tour of the Causeway Coast – the Ballycastle Food Tour is simply awesome.
Best place to buy local Irish foods in County Down, N. Ireland – Indie Fude
I had heard about Indie Fude through the local social media scene and grabbed some information and directions when we attended the BBC Good Food Show in Belfast. I rightly assumed that the shop would carry all the brands we tried and tasted at the show and would focus on local, indigenous Irish foods from around the Island. I was right on the money and thank god I brought plenty of that with me because it was an absolute treasure box of some of the best food products to be found in Ireland.
Indie Fude is a small deli tucked away in a little village called Comber. It concentrates on indigenous foods that are all locally sourced from all over Ireland. It prides itself on being independent, passionate about great food and in sharing the wealth of Irish foods with anyone who is searching for the best.
They host an amazing array of Irish focused food events that include Craft Beer, Cheese & Charcuterie Nights which was a great success. The latest offerings include; Let's Get Fizzycal where they welcome Neill Wines who hosts the tastings and provides some brilliant "insider" tips. Coming up they have The Gluten-Free Patisserie' highlighting how you can make a delicious gluten-free Christmas meal that will please the whole family over the festive period.
The Cultured Club will host a very special "Funky Festive Fermentation" masterclass, and book signing. What more could you ask for? The prices for the classes and workshops average around £20-30 and are well worth the investment. What a great way to hang with some Irish folks, learn about new foods and beverages in a beautiful little courtyard setting.
The best Irish foods from North to South
We tried some of the superb cheeses on offer from the Cavanbert which is a soft cheese that is handmade from raw cow's milk. It is matured for a minimum of two weeks and is beyond delicious. Our next taste was of the beautifully smoked Carrigaline cheese. This has a delicate smoky flavour that enhances the cheese rather than smothers it in smokiness. This may be because of the beechwood that it is smoked with and of course the best of the local milk.
Our other favourite Irish cheese turns out to be the Corleggy Goat Cheese this is a hard cheese made by hand from raw goat's milk. Perfectly mild and very rich the sweetness lingers on your tongue and is simply to die for when paired with some Guinness Wheaten bread.
Ireland is world-famous for its butter, sweet creamy and delicious spread on virtually anything and apparently folks in North America are now putting it into their coffee. Butter in Ireland became a vast commodity with the establishment of the Butter Exchange in Cork in the 1800s. The English would do anything to get their hands on some Irish butter and so the Butter Road was developed overtime to carry the firkins or casks of the fresh creamy butter to the eastern shores of Ireland to be shipped to England.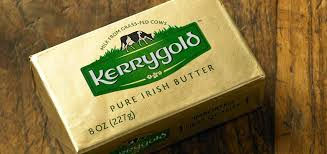 Irish butter's flavour is dependent on the cows and the way they are raised in Ireland. The majority of the herds are essentially 'free range' they graze on grass and are not fed chemically enhanced feeds such as corn. They are also hormone and pesticide-free. Irish butter is also higher in butterfat and it less watery than N. American butter which makes it perfect for fabulous baking. The butter is made from cultured milk and is around 2% higher in butterfat which makes it richer and creamier.
Kerrygold is the standard by which most Irish butter is measured by, but here at Indie Fude, we were treated to some Abernethy hand-churned butter. This butter is used by some of the world's best chefs from Nigella to Heston Blumenthal and it is glorious. We bought some of the Smoked Butter and the Dulse & Sea Salt infused butter. What can we say, sweet, creamy deliciousness combined with just a hint of smokiness when used in dishes like mashed potatoes it elevates the humble potato to new gourmet heights. The Dulse and Sea Salt butter is a tiny bit saltier than their regular butter but absolutely perfect for pairing with cheese or dousing some fish in it – heaven.
I have to admit we were pretty unstoppable in the store, we bought Smoked Trout Pate, that tasted of fresh trout with a hint of smokiness the taste lingering delicately at the back of your palate. A beautiful handmade pie made with Irish Beef and porter. The meat was so tender it simply melted in your mouth and guess what? It tasted like real beef, flavour magnified beyond belief when compared to that stuff called beef in the U.S.A. The jams, chutneys, pickles, were beyond belief everything was simply full of flavour, bursting with hand-harvested bramble berries, field fruits and superb combinations of tastes.
A totally unique taste we discovered was Irish Black Butter. We had heard of the butter at the BBC Good Food Show in Belfast and seen it on social media and were determined to find it and try some out. We didn't see it at the show but that may be because the place was packed with folks tasting and trying everything in sight. We did find it at Indie Fude however and bagged ourselves a jar. This is what we in Canada would call an apple butter, but Irish Black Butter goes far beyond that. It's beautifully tart with Bramley apples and enhanced with a spicy almost mince pie flavour from the added brandy, treacle and cider. The perfect mix of savoury and sweet it is like nothing you have ever tasted.
I can't do a piece on Irish food without mentioning Burren Balsamics. If you are a fan of balsamic vinegar like I am and you are visiting Ireland try and get your hands on some of these balsamic vinegars. The flavours are simply outstanding and the bottles of vinegar are so incredibly versatile. My particular favourite is the Blackberry and Thyme it works on meats, icecreams, fruits and is delicious as a salad dressing.
There will be more tasty treats on our journey around N. Ireland so you can look forward to articles on Irish Bread Making, the best Curry House in the North and some unbelievably good seafood including the world-famous Portavogie prawns. I hope to make your tastebuds stand up and take notice, to hell with the Game of Thrones Tours let's do some Causeway Coastal food touring and hit up Belfast for some of the best dining around.
You can find Indie Fude on social media:
Pinterest
And if you find yourself inspired save the pin for later so you won't forget