London: East End British Food & Drinks Private Walking Tour
Highlights
Tick fish and chips, Scotch egg, and meat pie off your British foods bucket list
Visit the cosiest and most traditional pubs and taverns in London's East End
Walkthrough the most authentic hipster neighbourhoods: Shoreditch and Brick Lane
Wash down your dishes with a delicious locally crafted beer or gourmet wine
Try the best bagel in town and learn about the humble origins of this staple dish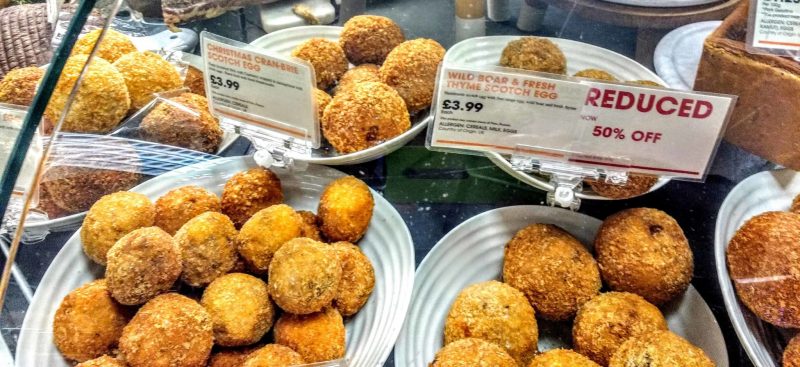 Free cancellation: Cancel up to 24 hours in advance to receive a full refund
Mobile ticketing: Use your phone or print your voucher
Duration: 2.5 hours. Check availability to see starting times.
The instructor speaks English
Eat and drink like a Londoner on this private dining tour of London's East End. Originally a neighbourhood of immigrants, with a dark past associated with crime and poverty, today it is one of the best areas to dine in London. Visit five of the best pubs and taverns frequented by Londoners.
Try the best-stuffed bagels in London, freshly baked in the most popular bagel shop in Brick Lane. Learn about the history of these delicious filled bagels and experience the local atmosphere while your guide orders your delicious bagel.
Continue your tour through the charming streets of East London and stop at one of the most interesting places in London: a café in the middle of a medieval church. Taste the most authentic British pastries accompanied by a classic tea or coffee.
Next, it's time to try the classic London dish: fish and chips. Enjoy this dish with a cold beer while your local guide tells you the darkest stories of Jack the Ripper, a famous character from the 19th century who murdered his victims in the same area where your tour takes place.
Visit one of the best pubs in London while you taste the typical "Scotch egg", a popular pub dish in Great Britain consisting of a hard-boiled egg inside sausage meat that has been shredded and baked or fried.
Finally, sample the classic English pie, a traditional British dish consisting of a puff pastry filled with a rich sauce and slowly cooked meat or vegetables. Savour these pies served with a craft beer or wine in a beautiful English tavern with a buzzing atmosphere.
Includes
Private tour with a local guide
5 stops at pubs and taverns
4 food tastings
4 alcoholic or non-alcoholic drinks
British pastry
Coffee
Meeting place: Meet your guide outside the only exit of Shoreditch High Street Underground station.
Book your London: East End British Food & Drinks Private Walking Tour here